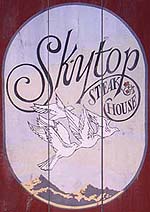 There may be many questions plaguing the minds of our intrepid bride and groom, but that of where to hold the Sunday brunch has been resolved! The decision to change the location was made by the bride-to-be, and Gabe stepped right up and made an executive call to the Skytop Steakhouse and Brewery. Those folks staying on the Kingston side of the river will become quite familiar with the large letters overlooking the Throughway exit. The Skytop is a place out of time (which time we're not exactly sure). We can vouch for the lounge as a great place to enjoy an evening's repast – microbrewery and great steaks. Sandy recommends the Iron Mits Irish Stout, Sean and Gabe give high marks to the Highland Diesel Scotch Ale, and Nancy is never afraid to order a Winkle.
For those folks who don't have to rush to head out of the Hudson Valley, the bride and groom would love to have people join them for brunch on Sunday morning. A full brunch is offered: carving station, omelet station, pastries, salad bar, etc. and a complimentary mimosa or bloody mary. $20.00 per person will cover brunch, tax, and tip and will be a great time to get to mingle with old friends and new. If you plan to attend, please give your money to Brooks or Helen Bartlett (parents of the Bride)
Hope that you will be able to attend.